04 Mayo 2023
The UNAB Network of Veterinary Clinical Hospitals Adds Two New Facilities for Community Service
Located in Talcahuano and Santiago Centro, these two new centers for small animals help expand and strengthen the veterinary clinical services provided by Andrés Bello University in the country's three main cities, including the Equine Unit, the Exotic Pets Unit, and the Wildlife Rehabilitation Unit at the Santiago campus. With this, UNAB can treat 15,000 patients annually.
The Andrés Bello University Veterinary Clinical Hospital (HCV UNAB) can now treat 15,000 patients annually, a significant figure made possible by the recent inauguration of two new veterinary care centers. In addition to the existing veterinary clinics in Colina, in the Metropolitan Region, and Viña del Mar, in the Valparaíso Region, a second facility has been added in the capital, specifically in Santiago Centro, and another in Talcahuano, in the Biobío region.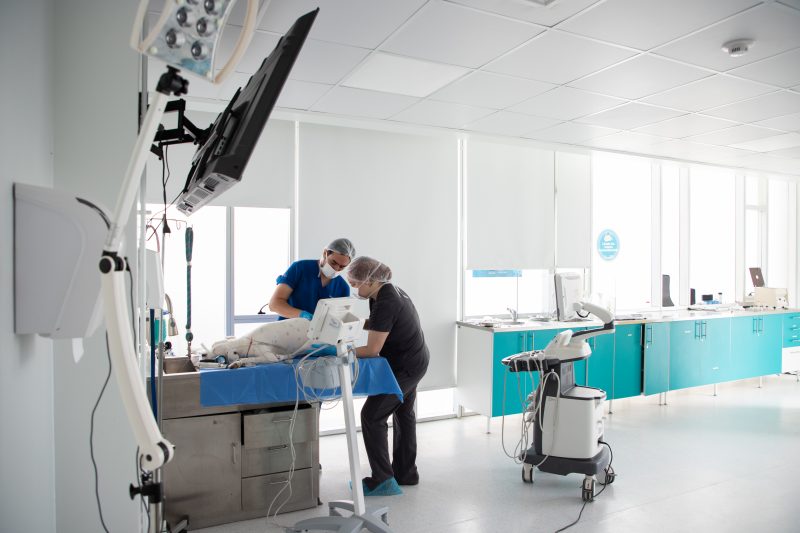 «Each of these modern clinical facilities meets and exceeds the new and demanding Technical Standard 0228 MINSAL of 2022, which establishes the sanitary requirements that pet and companion animal maintenance centers must meet,» says Dr. Carlos González, director of the UNAB School of Veterinary Medicine, which encompasses the three campuses offering this degree program.
As a result, the HCV UNAB is qualified to provide excellent and affordable veterinary medicine services in the country's three main cities, generating a positive impact on the community.
The Network of Veterinary Clinical Hospitals for Small Animals offers services in Santiago, Viña del Mar, and Concepción. Additionally, in Colina, there are three other units: the Equine Hospital, with a nationally renowned reputation; the Exotic Pets Unit (UMEX); and the Wildlife Rehabilitation Unit (UFAS).
Each of these four units that make up HCV UNAB has highly trained professionals, as well as cutting-edge infrastructure and equipment to ensure the health and well-being of the animals in their care.
Solid professional training
Operating under the guidance of the UNAB School of Veterinary Medicine, all HCV units serve as clinical fields where undergraduate and postgraduate students have the opportunity to train and specialize, always guided by academics and professionals with extensive experience.
«Our future professionals are trained with the UNAB seal, which includes international guidelines and concepts,» explains Dr. González. These include preclinical training at the UNAB Simulation Hospital – of the highest level – intensive learning at the clinical campus serving the community, a significant number of clinical-surgical training hours that allow the graduation of a professional ready for autonomous performance, and clinical training in specialized clinical facilities rotation systems. «All of this, always considering evidence-based medicine and the One Health approach,» adds the School director.
It also promotes innovation and clinical research, as well as facilitates translational medicine research, fostering the development of solutions for animal and human health.
Patients are cared for by multidisciplinary teams of professors and professionals with a critical eye and a broad, progressive perspective on modern therapeutic strategies. All framed within a strong identity of respect for bioethical principles and institutional values, generating a favorable experience for those who choose HCV UNAB services and ensuring the best possible well-being for patients suffering from any health situation.
The following are the units that make up the Veterinary Clinical Hospital of Andrés Bello University and their deployment in the country's main cities.
Network of Veterinary Clinical Hospitals for Small Animals
The HCV Network for Small Animals has four veterinary clinical hospitals: two in Santiago (the oldest located in Colina and the newly inaugurated one at 2119 Sazié Street). These are joined by the HCV in Viña del Mar and the HCV in Talcahuano, also recently inaugurated. All these facilities provide primary and preventive care for small animals, as well as veterinary specialties. They also have consultation rooms, imaging services, surgical pavilions, and cutting-edge Diagnostic Laboratories for Clinical Pathology and Clinical Microbiology exams.
All four clinical hospitals in the HCV UNAB network have hospitalization facilities for canines, felines, and infectious patients, with continuous 24-hour monitoring, ICU, and emergency services. They also incorporate specialists trained to perform medium and high-complexity surgeries and procedures, with comprehensive monitoring.
The clinical director of HCV UNAB Colina, Dr. Rubén Muñoz, highlights the high-end equipment for generating fast and accurate diagnoses, «such as the machines used in imaging and the equipment for rapid determination of blood gases and chemistry, which provide results within minutes. Among the facilities, the medical gas lines stand out, allowing quick and safe access in emergency cases, as well as in surgeries and the care of hospitalized patients.»
Paloma Moreno, director of HCV UNAB in Talcahuano, explains: «We have top-level equipment to meet the demands of the community. Although this hospital is designed for dogs and cats, it is also suitable for non-traditional pets like rabbits, hedgehogs, guinea pigs, etc. We have specialist veterinarians in these fields,» she says.
Similarly, the UNAB Veterinary Clinical Hospital academic director in Viña del Mar, Agustín Cartes, celebrated the opening of the new Sazié and Talcahuano centers. «As a university, we are leaders in the development of clinical hospitals,» he said, adding that they represent a tremendous opportunity for students to develop their clinical practice «in the best way, at the forefront of innovation in this discipline.»
Veterinary Units in Colina
Equine Hospital
This nationally renowned unit has been operating in Colina since 2011, offering a 24-hour community service every day of the year for outpatient, inpatient, and emergency patients. Services provided include sports medicine, diagnostic imaging, neonatology, ophthalmology, gastroenterology, intensive care hospitalization, orthopedics, and high-complexity surgery. Innovative procedures such as standing laparoscopic ovariectomies and cryptorchid patient surgeries are performed in this unit.
This year, the Colina Equine Hospital expanded its capacity by adding new consultation rooms, four additional stalls, and a new necropsy room. The latter is an improved space for the development of academic activities related to Pathological Anatomy.
In Viña del Mar, clinical activities in the equine area are carried out at the Equestria Center, with which the university has established an agreement, including the improvement of its facilities for teaching purposes.
Exotic Animal Veterinary Medicine Unit – UMEX
This unit operates in its own facilities, in the UNAB Veterinary Medicine Center in Colina, and specializes exclusively in the care of non-traditional animals, a field that has experienced a recent increase in pet ownership worldwide. Like the HCV UNAB network, the Exotic Animal Veterinary Medicine Unit is equipped with two consultation rooms, a procedure room, a surgical pavilion, and a hospital with special hospitalization cages for these types of animals.
Wildlife Rehabilitation Unit – UFAS
This center, in operation since 2015, is dedicated to the rehabilitation of wildlife species affected by human activity and their reintegration into their natural habitat. It primarily serves birds, amphibians, reptiles, native mammals, and some insects.
Furthermore, the UFAS Wildlife Rehabilitation Unit carries out significant environmental education work in the community, giving free talks in schools and other organizations.
UFAS has a specialized veterinary medical team providing medical and etiological treatments and also involves volunteer students from UNAB's Veterinary Medicine and related programs. It is worth noting that this center receives the most students within the student mobility program of the Association of Accredited Veterinary Medicine Faculties and Schools in Chile (AFEVET).
UFAS will begin operating from the UNAB Veterinary Medicine Center in Colina starting in July of this year.
Schedule your appointment
To book a medical appointment, click here to visit the website or call the following numbers:
Colina Clinic Phone: +56 22 770 3688
Email: [email protected]
Hours: Monday to Sunday, 10:00 to 20:00 / Emergencies 24 hrs.
Camino Lo Pinto S/N Km. 2.5 Colina, Santiago
Santiago Centro Clinic Phone: +56 22 661 8413
Email: [email protected]
Hours: Monday to Friday, 08:30 to 18:30 / Soon 08:00 to 20:00 and Saturdays 08:30 to 13:30
Sazié 2119, barrio República, Santiago
Viña del Mar Clinic Phone: +56 32 284 5098
Email: [email protected]
Hours: Monday to Friday, 9:00 to 19:00
5 Oriente 161, Viña del Mar
Talcahuano Clinic Phone: +56 41 266 2601
Email: [email protected]
Hours: Monday to Sunday, 10:00 to 20:00 hrs.
Calle B, N° 6147, Brisas del Sol Sector, Talcahuano
Escrito por Pamela Alarcón